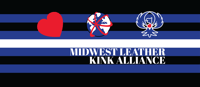 Tomo (she/they) is a queer butch leatherdyke who found the leather community during a sunset motorcycle ride with her wife Mel decades ago. She has presented classes, produced events, served as a judge, keynote speaker, auctioneer and emcee at leather events since. Tomo has been served by her Majordomo Levi for over 15 years.

Tomo is Owner and Producer of South Plains Leatherfest, the International Master slave Contest and the International Person of Leather Contest. She served as Northwest slave 2015 and International slave 2016/2021. She was a Producer of Northwest Leather Celebration, the Northwest Master slave, Northwest Bootblack, and Northwest Person of Leather Contests. She was also a Producer of International Ms Leather and International Ms Bootblack for seven years. She co-produces the Ms Sacramento Leather Contest and is a founding member of the D.U.C.
Tomo is a member and serves as Webmaster for Queer Leather Association Sacramento, has served as the West Coast Curator for the Leather Quilt Project, is a former Director of MAsT: Sacramento , and is a member of MAsT: San Francisco and The Exiles. She was awarded the 2013 Pantheon of Leather President's Award, the 2018 Master slave Conference slave Heart Award, and the 2020 Vice President's Award from the National Leather Association.
Doctor Bubbles and KitKat Ann met at Beyond Vanilla in 2018, and found a kindred spirit in each other. Since then, they have gone from playmates to best friends and eventually established an M/s dynamic and romantic partnership together. Their dynamic is based on mutual respect, trust, self-improvement, and dedication to increasing their knowledge and helping improve the world around them.
In 2021, they were named the Texas Power Exchange titleholders and went on to be named the 2022 International Power Exchange titleholders. As titleholders, they view it as their duty to help promote positive and healthy power exchange dynamics.
"The place between your comfort zone and your dream is where life takes place." – Helen Keller
Mufasa Ali has been a dedicated member of the leather community for over 25 years! He is the founder of the Men of ONYX, ONYX National Council Chairman, Patriarch of Mufasa's Pride, Leather History Preservation Foundation founding Board Member, Mr World Leather 2006/2007 and the ONYX Leatherman 1997. Mufasa is also an ordained Apostle/Pastor in the pentecostal tradition, identifies as Meta-costal and currently serves in various capacities in the Fellowship of Affirming Ministries and the United Church of Christ. He is also a Consulting Hypnotist and spiritual life-coach. Mufasa has received many awards and is the founder of the People of Color Caucus at IML & BlackBeat, the Leatherman and Leatherwoman of Color titles and a nationally known leather community speaker and educator/presenter on such topics as People of Color in Leather, Impact play, Leather Family, Leather Protocol, Spirituality & BDSM, Community Leadership and Diversity. Mufasa is a Husband,Master, Sir, Daddy, Dad, Papa, Uncle, Son and Brother to his leather family and honors them as his village of support. He is exceptionally grateful to his gamma boy Adjutant Rhaego Ali who serves by his side.
Bri Burning (she/they) is your International Person of Leather 2020-23 and Northwest Person of Leather 2019! Bri is a leather little, genderqueer femme, proud Indigenous Mexican, s-type, and Ma'am to one. They have been active in the SF/Bay Area kink and Leather community since 2010 and started their journey as a presenter in 2015 at the SF Citadel and Dark Odyssey Surrender. They served as the moderator of the SF Submissive Safe Space, a leader of the Submissive Girls Night Out group, and a member of the SF girls of Leather. Her passion in kink and Leather education continuously grows in topics such as self-care, power exchange, age play, and service—which she spreads like glitter!
Zero has been a member of the Leather and Kink Community for several years. Zero is a Dom/Switch, who is into a wide variety of kinks and fetishes. Zero is an educator, advocate and activist, focusing on helping those living with addiction, homelessness and mental health. Zero has served as a Chair of Education for ONYX Mid Atlantic Chapter, a one-time member of the Imperial Court System DC, and Mr. Philadelphia Fetish 2017. Zero was also 1st runner up for International Mr. Leather Bear. Currently, Zero is the Historian for ONYX Mid Atlantic, and continues to work with those who are in need in his community.
Daddie Danger is the current Ms. World Bear 2022, Queen of the Bears. She is an educator, leather woman, and glitter bear. Danger is an active member of the Austin, Texas scene for 20+ years. Danger Co-Directs Dark Age Play-Austin and is a patched member of her leather family LHC-Austin. She is a member of GWNN, SADE, and the Central Texas Femdoms. Danger volunteers with Austin Gay and Lesbian International Film Festival, Octopus Club supporting HIV+ communities, ASHWell and various food security efforts. Danger is the former Outreach Director for Team Friendly-Austin and Coordinator of Poly Big Fun for 6 years, the longest running polyamorous campout in Texas. She enjoys rough body play, biting, blasphemous roleplay, pups and pets, age play, chastity play, a solid fisting, and all things medical play.
slave ginna is International slave 2023 and Northeast slave 2022 and has been in a Master/slave relationship with Master Penguin for more than 20 years and married over 25 years. slave ginna has presented at many different conferences as well as MAsT chapters on various topics including mental health, neurodivergence, raising kids in a kinky home, and adapting in TPE relationships during life changes. She volunteers for many non-profit groups and serves as a board member for a local community action group.