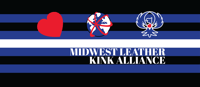 Educational Presentation (150 points)
This is your opportunity to teach the attendees and judges about your specific dynamic. You will have a minimum of 5 minutes and a maximum of 10 minutes to give an explanation to the audience about their relationship dynamic. They may use posters, Dry erase boards, or any other visuals that feel helpful. Visuals are not a requirement but they are allowed. Contestants must supply their own visuals or props. Background music is not allowed during this portion. Handouts are discouraged.
Contestants will have the use of a classroom area. When they reach the 8 minute mark on time, they will be quietly made aware that they have to wrap it up. At the pre-contest meeting, we will explain this in full. When they are done, they will be given more than 5-minutes to answer questions from the audience. The judges will not ask questions, they will only observe. They will be judged on their knowledge regarding their power dynamic, stage presence, and articulation of the dynamic and how well they handle questions from the audience.
Contest Schedule
Contestants must be available to attend all of the following. Please refer to the contest schedule for specific times and locations.
Friday

Contestant Meeting

Opening Ceremonies

Pop Question (unscored, just for fun!)

Fantasy

Saturday

Presentations

Interviews

Contest Finale

Sunday (At Sidekicks, see Sponsors)

Photo Opportunities

Victory Celebration (contestants must be available)
Demo/Fantasy (100 points)
This category allows contestants to show the audience a scene or scenario that involves a power dynamic. Contestants will have a maximum of 4 minutes. They can decide to enact a scene with background music or contestants can request the use of a microphone. It is suggested that they stick with a music background but this is their choice. They will be judged on the content and connection they make during their demo or fantasy, along with audience reaction, stage presence, and full image. They will not be given notice of time running out.
Interview (150 points)
The interview is possibly the most important category because the judges will have already observed contestants, watched their Fantasy and will have lots of questions to ask. The judges will be allowed to ask whatever they want to know. The dynamics will be interviewed together and the interviews are closed to all others including handlers or friends. The judges will score on how well they answer the questions and on the attire they choose to wear. The length of the interview will be between 15-20 minutes.
Overall Image (100 points)
The first thing the judges will be asked to do is score contestants on their overall feeling as a pair and how they observed the interactions during the contest weekend. There is no defined look other than being authentic to the power exchange dynamic in which you are in.